The '50 things to do before you're five' app is now officially launched in Oxfordshire! There are some wonderful ideas and activities on this app to enjoy with your children.
It is free to download and offers 50 low-cost/no-cost local activities designed to promote early language development, as well as encourage parent-child interaction.
The website can be found here: https://oxfordshire.50thingstodo.org, with the app available to download via the website, or from Apple AppStore/Google PlayStore.
---
CHERWELL THEATRE COMPANY
Summer Play in a Day/Play in a Week workshops for children.
Limited spaces are available at just £50 for the week (play in a week) or £5 for the day with bursaries available to those that need them.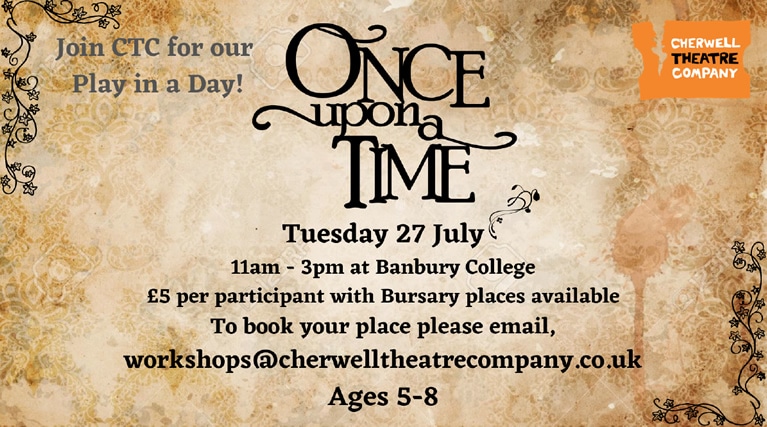 ---
Free Play Day at People's Park
---
Summer Holiday Hubs
Download more information here.
There is a discount code for FSM children , please ask in the office.
All venues have 10 full day and 20 short day places available.
All links have the question about special dietary requirements.
All venues (except Warriner and Cooper School) include the permission request for children over 8 to take part in swimming activities.
Please see the links below:
---
Football Holiday Club
The week will be a mix of coaching, fun matches and team games, open to girls and boys of all abilities. All coaches will be fully trained, with DBS checks and full COVID precautions in place. Bookings can be made here: https://star-strike-football.class4kids.co.uk/camps
---
Summer Football Camp
---

This is a fun active challenge for children to take part in at home and submit their results into the competition.
Find out more here.
Submit your results here.
---
All Stars Cricket
Covid safe All Stars Cricket (5-8 years) and Dynamos Cricket (8-11 years) sessions:
All Stars Cricket     Dynamos Cricket

---

Banbury Tennis Academy
Banbury Tennis Club have released their planned Summer Tennis Coaching Programme for the Schools in Banbury.
They will also be giving beginners from any age group a free first lesson and 10% off for signing up.
You can download an information leaflet and application form here:
Summer Tennis Camp 2021
or visit banburytennisacademy.co.uk/camps/
---
Do you need new SchooL shoes?

---
Rainbow Theatre Summer School
---
Did you know that whenever you buy anything online – from your weekly shop to your annual holiday – you could be raising free donations for Harriers Banbury Academy with easyfundraising?
There are over 4,000 shops and sites on board ready to make a donation – including eBay, Argos, John Lewis, ASOS, Booking.com and M&S – and it won't cost you a penny extra to help us raise funds.
All you need to do is:
1. Go to https://www.easyfundraising.org.uk/causes/harriersbanburyacademy/?utm_campaign=raise-more and join for free.
2. Every time you shop online, go to easyfundraising first to find the site you want and start shopping.
3. After you've checked out, the retailer will make a donation to Harriers Banbury Academy at no extra cost to you whatsoever!
There are no catches or hidden charges and Harriers Banbury Academy will be really grateful for your donations.
Thank you for your support.
---
Sunshine Centre now even better!
We wanted to let all of our families know that the Sunshine Centre, which has been open since 1998, now has even better facilities!
They offer a one-stop service, with support including:
Courses & groups:  basic skills, family learning and parenting, plus support groups for survivors of domestic abuse
Antenatal & health visitors:  with weekly groups and drop in clinics
Stay & play sessions:  for parents/carers and under 5's to explore activities together, meet others and share experiences
Baby groups:  a chance for parents and babies to attend groups like baby massage
Mini markets:  weekly markets selling baby equipment, toys, clothes, books and more
They aim to provide both practical help and emotional support and were rated Outstanding in all areas in their May 2019 OFSTED report.
Please contact them if you feel any of their services could be of help to you or if you would like to donate to their Mini markets.
Address:  Edmunds Road, Banbury, OX16 0PJ
Tel:  01295-276769
Email  community@sunshinecentre.org
Website  www.sunshinecentre.org